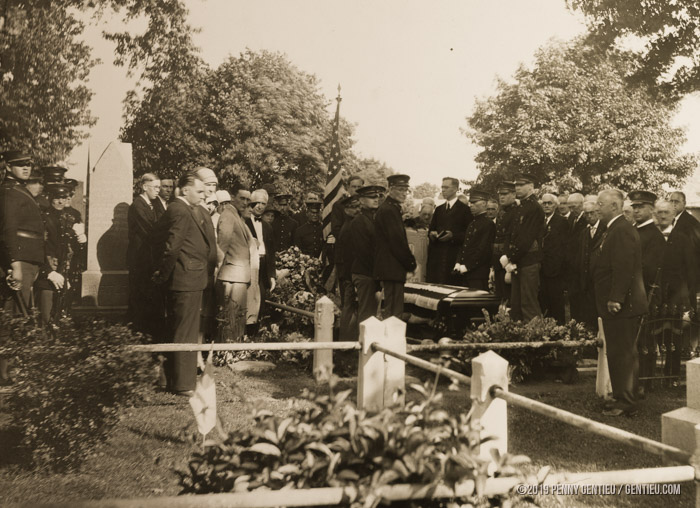 How fake the so-called honor
I'm sorry to be stepping back from this so-called "honor" bestowed upon my great great grandfather by calling it fake – but I have to point this out.

Where's the honor in this so-called Memorial Day tribute to a Civil War veteran – our own French immigrant ancestor, Pierre Gentieu – when the current Sons of Union Veterans cause his progeny so much pain?
My great great grandfather's entire life was deeply influenced by the Civil War. He was the last living member of his chapter of the Grand Army of the Republic. He helped form his own sons' and daughters' chapters of the Sons of Union Veterans and the Auxiliary. Called "Sons" in the name, the groups were all about family honor.
That was then. The original members have passed on and times have changed. Five or six generations have been born since that time.  In 2019, an anachronistic Sons of Union Veterans mens' group (not the women's group, which apparently fizzled when Celeste, Pierre's daughter, died in 1971) exists whose goal it is to collect data on every single Civil War veteran, every tiny detail except for one thing – the very heart of the matter, Pierre's living family!
This Memorial Day weekend, the Sons of Union Veterans in Wilmington Delaware will be exploiting my family for the sake of their annual reenactment.
It's a fake honor to my ancestor because, in the planning of this event, my family has been deeply disrespected. My father, Edward Pierre Gentieu, my grandfather, Fred Gentieu and my great grandfather, Frederic Gentieu would not have stood for being so badly treated, and of course all of my grandmothers would agree. I'm quite sure that my great great grandfather, Pierre Gentieu, the Civil War veteran buried in the Mt. Salem cemetery who was somehow randomly picked for their 2019 activities, would consider it a sham for his progeny to be treated so badly.
Flags flying, taps played and muskets fired, wreath laying by innocent children and a parade. Bring a water bottle for yourself and a power drink for the kids, along with a hankie to wipe up your sweat and an umbrella. It's going to be a long five hours between the sugar donuts they'll be serving at the 9AM pre-church meeting, then throughout the long church service, to the final musket salute in the Pierre Gentieu portion of the program which ends five hours later, around 2PM. 
Do they care about the wants and needs of family members agreeing to travel hundreds of miles – enthusiastically doing so in order to share with other family members? Not a single bit. Instead of bringing the extended Gentieu family together, they have deliberately sliced the Gentieu family apart.
Take me, for example. While at first I appreciated being consulted in April about the planning of the event, since I am thought of as the family historian, and I do have this website which is named after Pierre, I ended up wishing I never heard of this event because everything I suggested and everything I had to offer was thrown out by the ringleader, Kenneth Finlayson, the "Vice Commander" of the Sons of Union Veterans, and his "brothers" and the Mt. Salem church members.
I arranged for a family get-together at the Hagley after the official ceremony, but my plan was torpedoed by Kenneth Finlayson, whose cooperation I needed to reach family members. He made it like pulling teeth. 
Then Kenneth decided to add the exhausting Sunday morning two-hour pre-church meeting with the parishioners, mainly for the benefit of the parishioners, because it was more convenient for the parishioners, even though the Gentieu family preferred to have a Saturday evening dinner get-together. 
I had assumed, when he first mentioned that Laurie Sather, the archivist at the Hagley Museum and Library, would be giving a little talk, that she would be talking about the importance of Pierre's photography to the development of the Hagley. Pierre worked at the DuPont Powder Company after the Civil War  for 35 years, where he independently photographed the powder works and the workers. His photos are quite important to the Hagley. But instead, she is billed as giving a general biography on Pierre. But I thought this event was to honor Pierre as a Civil War veteran.
Kenneth Finlayson is a Civil War veteran data-collector. For three weeks, Kenneth Finlayson wasted my time with hour-long phone calls, having me write bios, create posters, write blurbs for emails that vanished into thin air. Then he decided not to use my bio of Pierre in favor of asking Laurie Sather to write it, of whom he made sure to tell me was the expert on Pierre, as if I hadn't researched Pierre's Civil War history for the past 27 years in seven different states and the District of Columbia! My poster was nixed – at first he loved it and his "brothers" loved it and the church members loved it, and he had me changing words on it three times to get it just right — but then I didn't hear from him for days, although he knew we were leaving on a trip to Spain.
Ken waited until right before I left for Spain to give me the news that he wasn't going to use my poster or the bio I wrote of Pierre. He pretended not to receive the blurb I wrote for him to include in the email that he promised to write to the family members explaining what the event was all about and the family get-together that I planned for afterwards. He promised to send the email in plenty of time so that I could reach out to members of the family before I left for Spain, but he sent the email the day we left for Spain.  He wrote a garbled version of my Hagley get-together that was nothing like the paragraph I had given him to use verbatim, and he put the get-together in competition with a free barbeque at the church. 
I was so excited about this Memorial Day event. I felt it was a great way to connect with family and share. Although I was leaving on a trip to Spain, I hurried to finish books about Pierre that I wanted to share with family members whom I haven't seen for many years, and I had historical artwork to show. Sadly my plan for a family get-together at the Hagley centering around our beloved Civil War ancestor Pierre Gentieu just didn't fit in with the plans of the Sons of Union Veterans Appomattox Camp #2 and the Mt. Salem Methodist Church. Even though it's our ancestor they are celebrating, our family is obviously not welcome at this event. I think the church and the "Sons" should examine their collective heart to see what they are really doing when they pick a Civil War veteran to "honor" for Memorial Day, then go out of their way to disrespect the descendants.
"Trying to accommodate family personal agendas in a planned group event is always hard to do," said Kenneth Finlayson.  Hmm.  I thought it should have been pretty straight forward. But apparently similar disappointments felt by other "honored" families in regard to the Sons of Union Veterans Civil War reenactment events happen all the time with Kenneth Finlayson. Maybe it's time for them to quit.
If you google "Kenneth Finlayson" you will find a Kenneth Finlayson who is the Historian at the United States Department of Defense. And you will find another Kenneth Finlayson who is a Vietnam veteran in Wilmington, Delaware, who collects information on Civil War veterans and is a reenactor. The Wilmington Kenneth Finlayson who is the reenactor is the one who contacted me.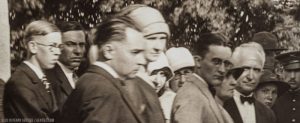 I ponder the photo of the three Gentieu family branches together on the left side of Pierre's grave, on his funeral day in 1930 – Norman, my grandparents, and Frank and Betty. You can see how they felt. You can almost put yourself in their place. That 12-gun salute given over his grave by the Sons of Union Veterans at his funeral must have really meant something.
Pierre helped create the Sons of Union Veterans Appomattox camp #2 with his real sons 121 years ago, and he also helped create the Auxiliary group with his daughters.  As in the name, it was about family honor.  How dare this group in 2019 identify with Pierre Gentieu and pretend to honor him after they have treated his progeny – the Gentieu family – so unkindly and so dishonestly in the planning of their 2019 "tribute" to my great great grandfather.