Squarespace should not diminish our rights and opportunities by stripping away our copyright management information (CMI) that we embed in our digital photographs. 
The Google Licensable badge is the best thing that's happened for photographers in a long time, and it will empower us to have more connection and control of our digital images, besides maybe even being a licensing vehicle.
See here for information about Google, photo metadata, and the Licensable badge:
https://iptc.org/standards/photo-metadata/quick-guide-to-iptc-photo-metadata-and-google-images/
See here for a new tool to help you embed the metadata required for Google Images to display a Licensable badge on your photos:
Here's how to reach Squarespace to request that they not strip our important copyright management information (CMI) metadata from our photos so that we can benefit from Google's upcoming Licensable badge and better protect our copyrighted photos we put on the web:
http://support.squarespace.com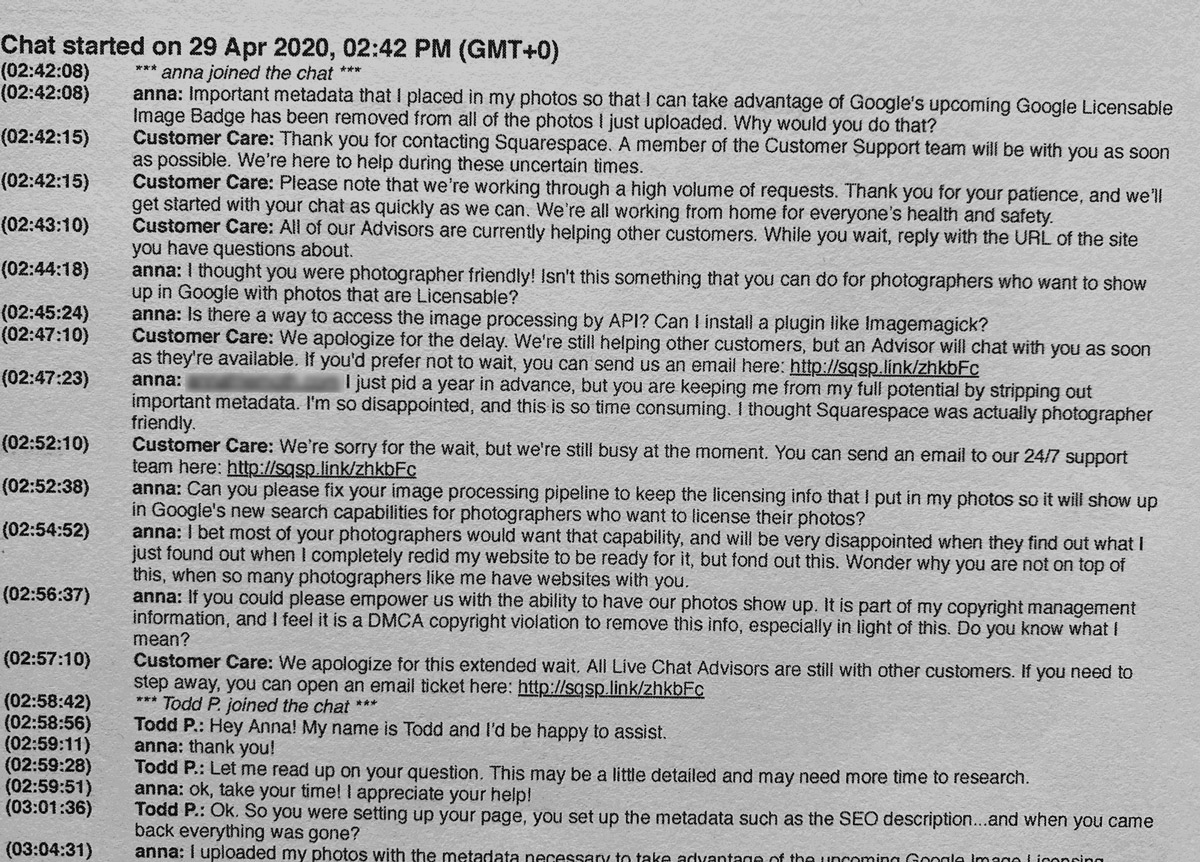 For so much of this quarantine, I have been trying to get Squarespace, a behemoth website provider to photographers and other website publishers, to not strip out important copyright management information in the metadata of our photographs that we put in there to help us license our photos and also help to keep them from getting infringed.  We subscribed to a full year of Squarespace on April 12, only to discover that important metadata had been stripped out of the files that were uploaded to the new Squarespace website! Here is my communication with them:
April 27, 2020 —
How does one keep metadata in one's photos, your option to retain metadata still strips important metadata out, metadata that will empower photographs to be displayed in Google's upcoming "Licensable Badge." My daughter and I are very frustrated and shocked that Squarespace would cut that out, even in your hidden option to retain metadata, which I would never imagine had to be turned on, on what I thought was a photographer-friendly service. But she did turn it on. And she just paid for an entire year upfront with you. She shouldn't have to sacrifice her Google opportunities, and so please let me know what needs to be done so that her metadata travels with her photos. Seems like a DMCA violation to deliberately strip out her metadata that would enable her to take advantage of Google's new licensing badge.
---
April 29, 2020
Hey Penny,
I appreciate you reaching out. You're through to Alex in Dublin.
You are correct that metadata importing needs to be enabled before the metadata from the file is collected. Guarantee that your pictures incorporate the metadata you need. Contingent upon your camera or image editing software, the data fields may look different.
It is also important to note that the image data does not import to Image Blocks. Only images added to Gallery Blocks and Gallery Pages will consider the metadata.
Also, if the metadata should not import it can be added manually as seen in step 3 of this guide: https://support.squarespace.com/hc/en-us/articles/205812798-Importing-image-metadata#toc-step-3—add-your-images
As a note, Squarespace imports image titles, descriptions, tags, and GPS longitude and latitude. The other thing that is important to mention is that metadata can only be imported for .jpeg and .jpg files with metadata stored according to the EXIF (IDO) and IPTC standards.
We do not want to sacrifice the Google opportunities of your daughter and I can send this as a feature request to our developers. I am assuming that your daughter is importing PNG files as it seems to not be working. Can you please confirm this?
If the metadata should not import, although meeting our requirements, can you please send an image so we can take a closer look?
Thank you in advance! I'll be on the lookout for your reply and we'll continue from there.
Best,
Alexander D.
---
April 29, 2020
Hey Alex, Thanks very much for your email and willingness to help us enable the result we we are after, which is to be Google-ready when Google launches their Google Licensable Image Badge, and that could be any day now.
I personally prepared the files for Anna, outputting them in Lightroom at 900×900 pixel jpgs and inserting the IPTC fields required for the badge, which are the copyright notice, Web Statement of Rights (also called Copyright Info URL), Licensor name and Licensor URL. Also Creator and Credit Line. Anna uploaded them onto her website with your metadata importing option.
When we right-click to download the photo, the licensor and licensor's URL are missing.
Attached are two self-explanatory jpgs —
Friemoth-9229 uploaded to website.jpg
Friemoth-9229 downloaded from website.jpg
Also, a screenshot of her website.
I hope this is helpful for you to take a closer look. We appreciate anything you can do to persuade the developers to keep the metadata intact. As professional photographers, Anna and I are inspired by the upcoming Google feature and know it will help our businesses. We've been spending countless hours getting ready for it.
I have learned way more than I ever thought I had to, in the past few months about metadata… I have a WordPress site that I just discovered needed to have the ImageMagick plugin to maintain my metadata. Anna happens to really like Squarespace, as do a lot of other photographers. If you could add this capability to retain this required metadata, I bet you could use it to advertise Squarespace to photographers as being Google-ready.
If you need anything else, let me know.
Thanks very much for your time,
Penny Gentieu
---
May 1, 2020
Hey Penny,
Thanks for reaching back out to us and getting us that information.
I'm going to escalate this ticket for review. We'll reply back to this ticket directly with more information as soon as possible.
Please note that escalated tickets can take a bit more time to resolve. It may be up to several days before you receive a response.
Additionally, any replies you send to this ticket will not be received immediately. If you have any urgent questions regarding this escalated ticket, please submit a new ticket here:
https://support.squarespace.com/hc/en-us/requests/new
Apologies for any inconvenience and thanks for your patience while we work on this for you.
Best,
Jerek B.
---
May 3, 2020
Hi Penny,
Thanks for your patience.
I can confirm it is not currently possible to import the metadata you are looking to keep. Only the following information can, at this time, be imported is:
image titles, descriptions, tags, and GPS longitude and latitude
This is documented here:
Importing image metadata – FAQ
This section lists where you can add/check this using Lightroom:
Importing image metadata – verifying metadata
I understand that with the launch of this new Google feature (I see it is still in Beta), it would be very useful to have more information import along with the images you upload. I will pass this request on to our Products team as a Feature Request. We cannot guarantee that every suggestion will get implemented, but all get reviewed, and this type of feedback is an important part of how we continue to improve our platform, so we sincerely appreciate the input.
Let us know if you have any question!
Best,
Segolene T.
http://support.squarespace.com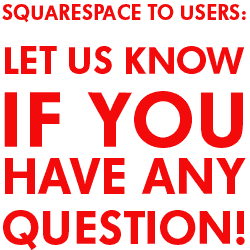 As a matter of fact, I do have a question! Does your partnering with Getty Images to sell $10 photos to your users have anything to do with your deafness to my important issue about you stripping out metadata in my files so my photos will never show up on Google Images with a Licensable badge?
UPDATE
May 13, 2020 to Squarespace:
I am following up on my requests from last month about whether or not you will be letting my photo metadata remain in my image files so that my photos will come up with the soon-to-be-launched Google Licensable badge.  I have sent you plenty of information about it, so I'm sure you are aware of it. Thank you for your consideration. I paid for an entire year last month, only to discover that you automatically strip out the necessary Licensor fields in the embedded photos' metadata. You told me that you would be taking it to your Products team as a Feature Request. What did they say?
May 15, 2020
Thank you for reaching back out and for your patience. Given the current circumstances regarding COVID-19, we are responding to a record number of requests, so our response times have unfortunately been taking longer than usual.
With regards to your request for allowing image metadata to be retained when images are uploaded to a gallery section on a 7.1 site, I can confirm that this request has been submitted to our product managers. That being said, due to the volume of requests that we receive each day, our product managers are not always able to respond with information regarding when or if they will integrate a given feature. With this being the case, we have not received any specific updates as to when or if this functionality will be implemented on our platform.
As a note, feature requests are often approved based on the volume of requests we receive. So, if you know anyone else who uses Squarespace and would like the same feature, you can encourage them to write in and let us know.
I also encourage you to keep an eye on our blog where we announce new features and major updates:
https://blog.squarespace.com/blog/
I certainly understand that—as a photographer—this functionality is extremely important to you, so I apologize for not having more specifics regarding when or if we will make changes to the metadata that is retained when images are uploaded to gallery sections on our platform. However, I genuinely appreciate your understanding, and I do hope that this is something that will be integrated in the future.
If any other questions or requests come to mind, please do not hesitate to get back in touch.
Best,