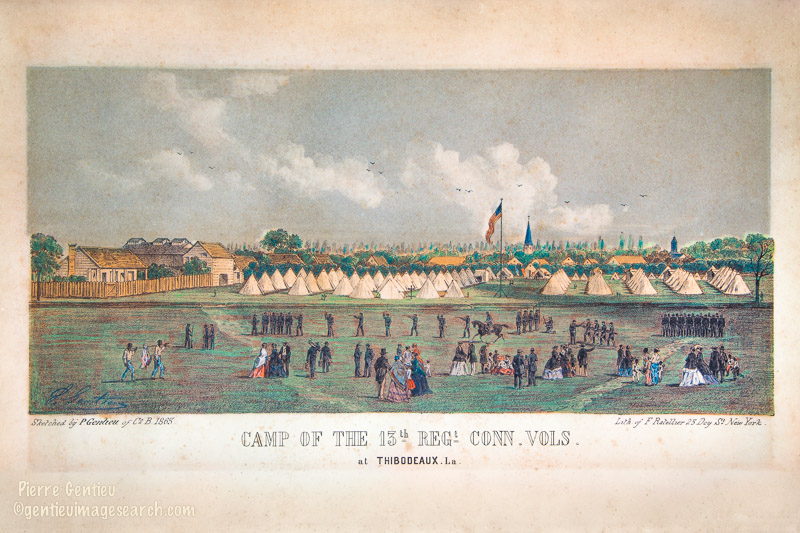 My great great grandfather, Pierre Gentieu, was a Civil War soldier and a Civil War artist. The surviving works that I have, that he made during the Civil War, are a lithograph of a drawing and a watercolor or gouache painting, both of Camp Hubbard in Thibodeaux, Louisiana. I also have a War photo of the same encampment. I think the photo was used as reference. The photograph (a mounted 8×10 albumen print) shows Pierre actually in his tent, on B Street. (A regiment has about 1000 men, divided into about 10 companies, and Pierre was in Company B.)

Pierre, 18 years old, came to Brooklyn, New York from France in 1860, where he lived for a year. When the next winter came, he moved to New Orleans, where the climate was closer to what he was used to in his homeland of Orthez in the Lower Pyrenees, France. He made some friends who were in the New Orleans Artillery, a state militia, and so he joined for the fun of it. They were learning heavy artillery drill at Fort Livingston, at Baratiara Bay, when the war broke out and when Farrugut came up the Mississippi. The order soon came to the colonel for them to spike their guns and go to Vicksburg, and so they left.
At the first stopping point, in Donaldsonville, up the Mississippi, Colonel Theard lined up his men in dress parade, and gave a speech. He told them of his orders, but that he had no right to take them across the state line without their consent because they were enlisted as militia for the state of Louisiana only. The Colonel said, of course he himself would go to the uttermost, and he hoped his men would too, but if any man was against the cause of the Confederacy, and if he had any scruples about it, that he was free at that time to step out of the ranks.
In regard to this moment of decision, here are Pierre's own words, written in a letter to his nephew, Willie Weed, in 1915:
Then came the time for me when I had to decide at once. My conscience and pride were struggling; one was saying, you ought not accept the cause of slavery; and the shame to appear before my comrades, as if I were afraid because we would have to fight, was a struggle indeed; but I made up my mind now or never whatever happens — I stepped out the first one in my company, with cries of coward in my rear.

So I stood for a few seconds when Albert Fest, whom you know, stepped out from the right of the company, as he was a tall man, and turning towards me, said, "Pierre, I am with you on this." Then three more came out, and several Germans in the company next to us. As we were the butt of all insults from behind, the Colonel put a stop to that very quickly, saying, "none of that, men; it takes more moral courage for those men to step out as they have done, then to stay in the ranks," and closing the few of us near him he spoke kindly, but sadly, saying to leave all of our equipments, taking only our personal property— that New Orleans was so many miles off, in such a direction—we could get there the best way possible—that we were free; and so we left worrying whether or not some of the hot-headed ones might shoot at us; but the Colonel kept them in line until we disappeared in the woods.

What I think is really interesting about what has survived of Pierre's Civil War artwork is that it was all created in Thibodeaux, the location of Camp Hubbard, which was only a few miles down the bayou from Donaldsonville, the stopping place where Colonel Theard lined up his men and gave them the opportunity to step out of the ranks. The camp was the home-base of the 13th Connecticut for several months, while the regiment swept down the Bayou Lafourche, liberating hundreds, maybe thousands of slaves from plantations.
Here's the poster that was made to sell the lithograph edition of Pierre's Camp of the 13th Reg't Conn. Vols., in 1870, issued by Francis Weed: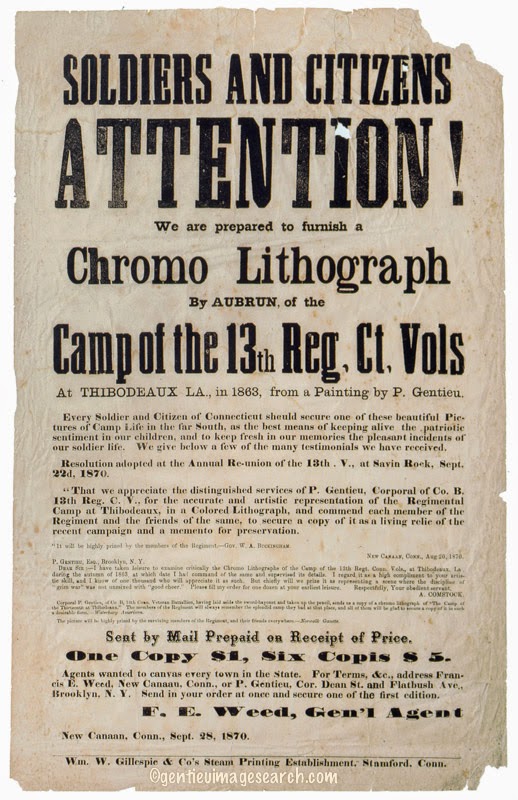 Here's a picture of Pierre's friend, Albert Fest, who was the first to step out of line with him in Donaldsonville. It is from around the turn of the century and Fest is posing on his stoop with his family in Brooklyn, a large American flag flying above them. Perhaps it was Memorial Day.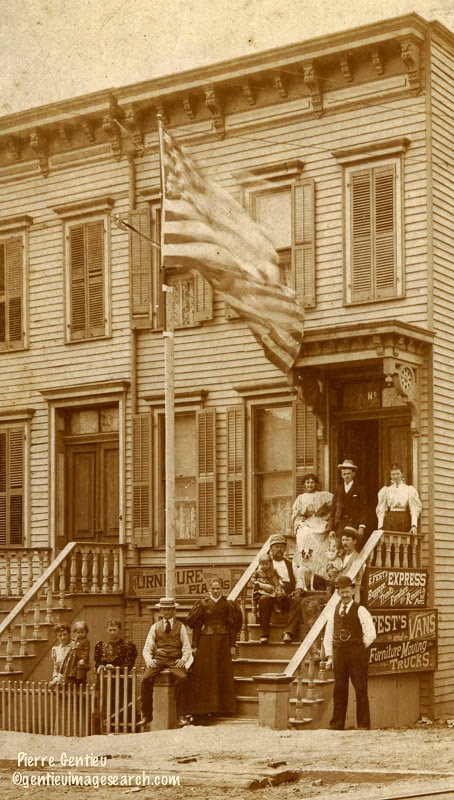 Here's a picture of my first get-together with newly-discovered cousins, at my New York City, Lafayette Street studio in 1994, cousins I met through my discovery of Pierre's photography: Elizabeth is holding a photo of Pierre, Vivian is holding a photo of Francis Weed, Jeanne Duff is holding a mural of the Pyrenees; all these cousins were/are keepers of Pierre's family memories; I'm holding a hand-made album I just completed of 50 silver gelatin prints I had just printed from Pierre's original glass plate negatives, and my daughter, Anna Friemoth, age 4, is holding a French postcard of a French cousin.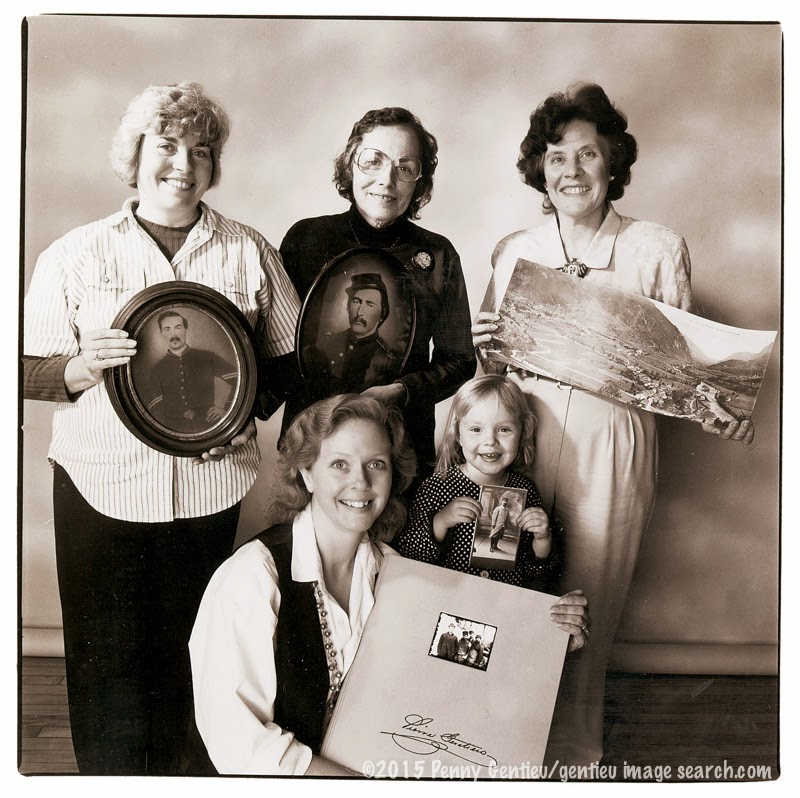 Happy Memorial Day, cousins!