My mother, Audrey Gentieu's work is on the left, my daughter, Anna Friemoth's is on the right. Born almost 70 years apart, they have several artistic characteristics in common. They both use color very well, their compositions are simple, and they both have a love of fashion and glamour.
My mother, born in 1922, was classically trained by Karl Kappes, born in 1861. She was on the tail end of a long line of Kappes students, who himself was trained in Germany in the 1880's. He taught her a very formal, refined color sensibility, and if you are familiar with his other students who went on to become notable Toledo artists, such as Earl North and Ruskin Stone, you will notice that they all share this same color sensibility, incorporated into their own personal styles.
Anna's use of color is different from her grandmother's, but is no less refined. Anna uses color simply but boldly, with the energy of her own youthful vitality, reflecting her own generation. Like Audrey's paintings, Anna simplifies her compositions by use of a plain background and unified light, focusing on the nuances of the portrayed figures.
Both are into glamour and style, and both love clothes. Audrey created her golden-era movie star portraits during the last part of her life, looking back and reflecting on the ideal beauty of her youth. At the opposite end of the spectrum, Anna's photographs are witty, ironic and contemporary, while having a similar passion for style and fashion.
When Anna was growing up, we would visit my mother in Toledo. Mom would always have a pastel on her easel, of a movie star, in progress. Her closets overflowed with clothes, and she had deep drawers full of costume jewelry. She always dressed to a T. That influence, I think, had an effect on Anna.
Maybe there is more to the genesis – that 100 years ago, my mother's mother graduated from Pratt Art Institute with a degree in fashion design. She gave it all up when she married my grandfather. They settled down in Toledo and raised four girls. They supported each daughter's creativity to the fullest.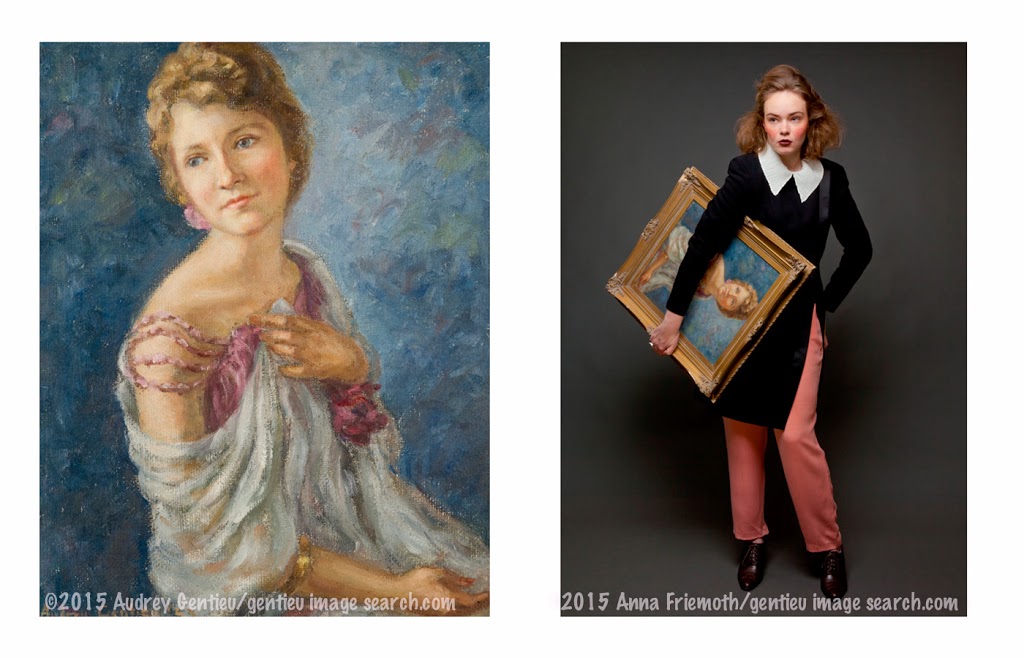 My mother's painting portrays my grandmother's sister, Audrey, as she was around 1918, draped in classical clothing. She married the Jazz Minister and was a flapper in the Roaring Twenties. My mother, Audrey, painted this in 1953. (I was born the next year, and they named me Audrey, as a matter of fact.) Although Aunt Audrey died in the early 1930's, she was painted as a young woman dressed classically, itself an anachronism. Mom would later use the same cushion of time looking back on classic Hollywood movie stars.
Anna, in the tradition of great artists, doesn't just borrow, she steals. She stole her grandmother's painting for her self portrait, "Do Not Steal", one of her "10 Commandment" photos. It looks like she just stepped out of a 17th century Dutch painting, a bold woman, art thief, and all.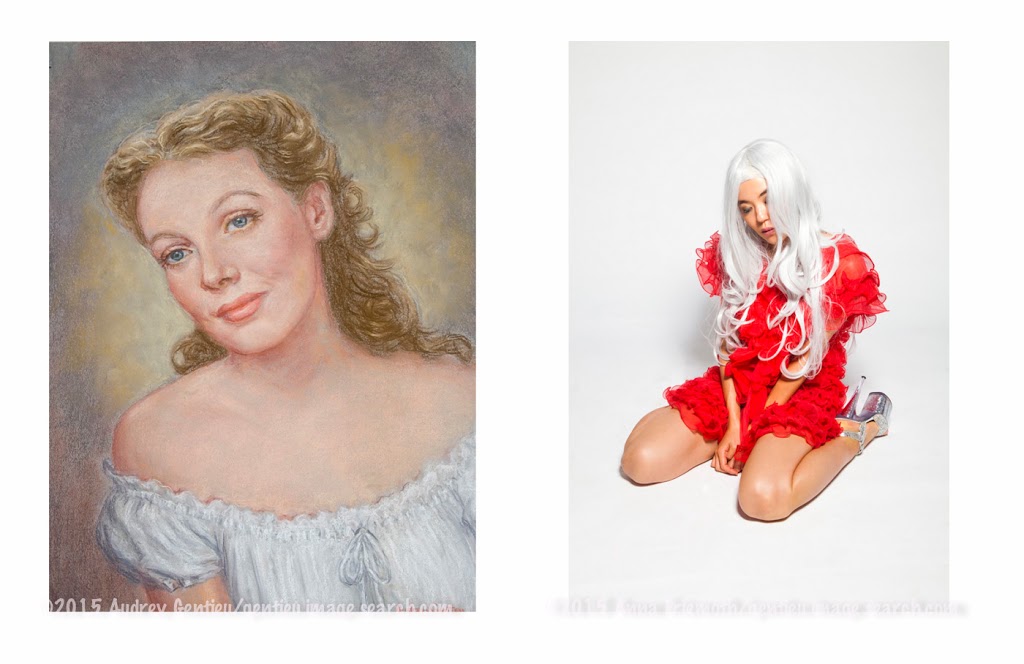 Similar resigning repose in the subjects of Loretta Young and Kimi, with detail in the white peasant blouse and red chiffon ruffled dress.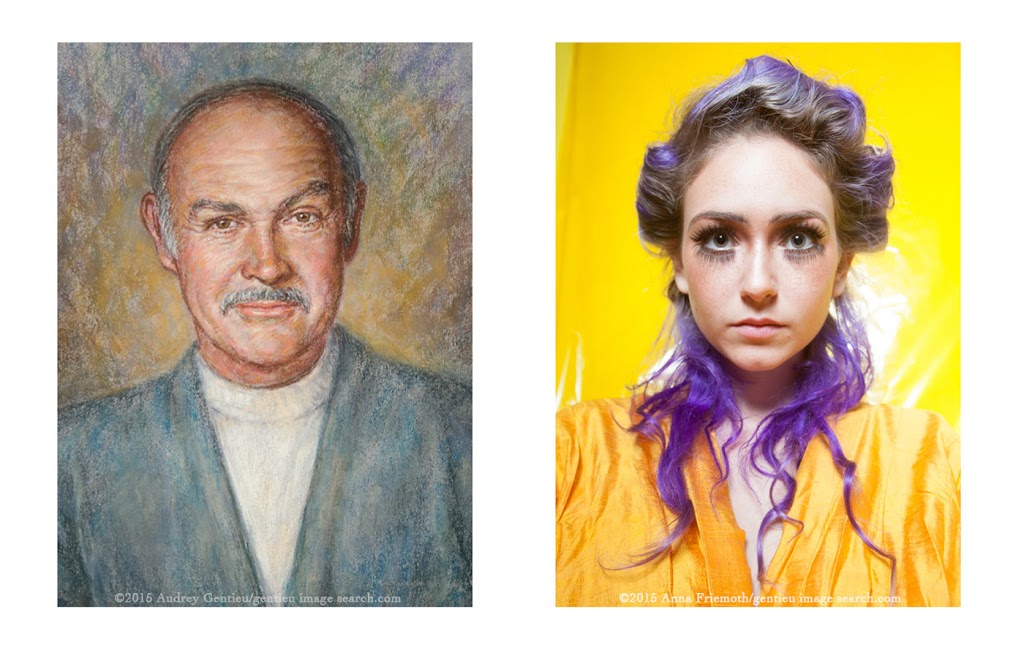 Beauty is about symmetry. Audrey and Anna understand that. That, and, that opposites are complementary.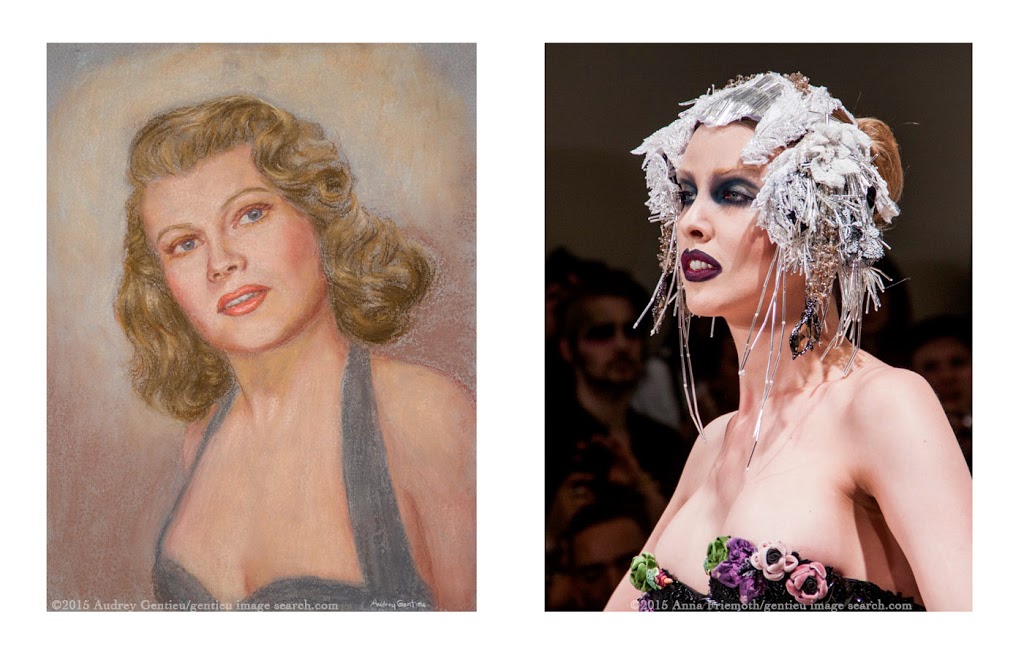 Mom's Rita Hayworth compared to Anna's photo that she took at a fashion show in London, note the faint shadowed portrait of the man in the background. The shape of the lips, the bustier, that vulnerable bare arm (and the hat), and those darkly shadowed eyes have an interesting relationship to Mom's Rita Hayworth.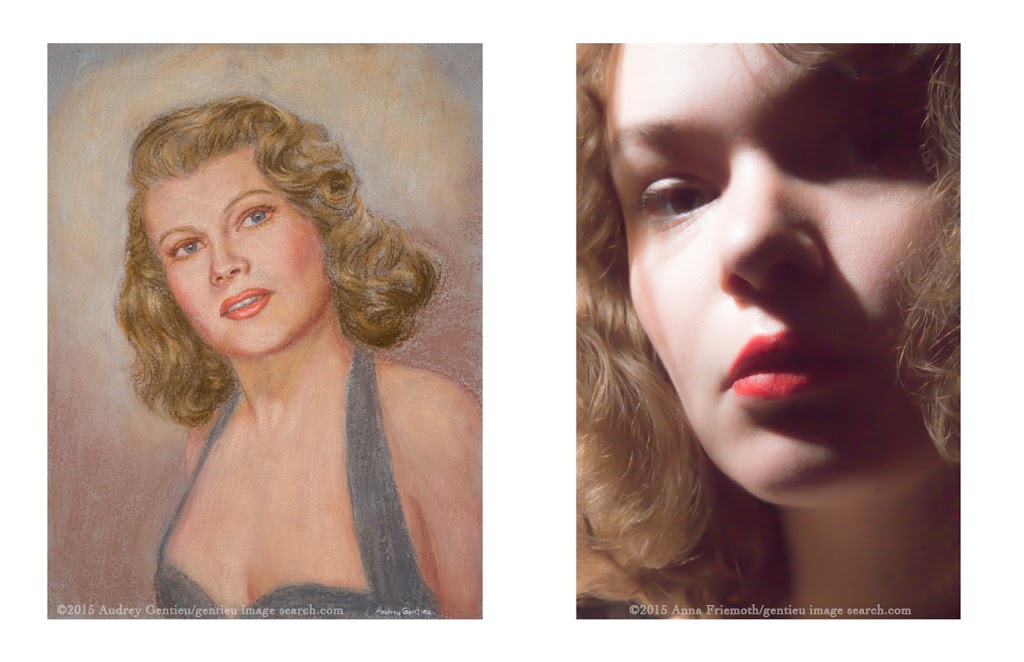 Anna's self portrait compared to Rita Hayworth. Sharply lit, softly expressed.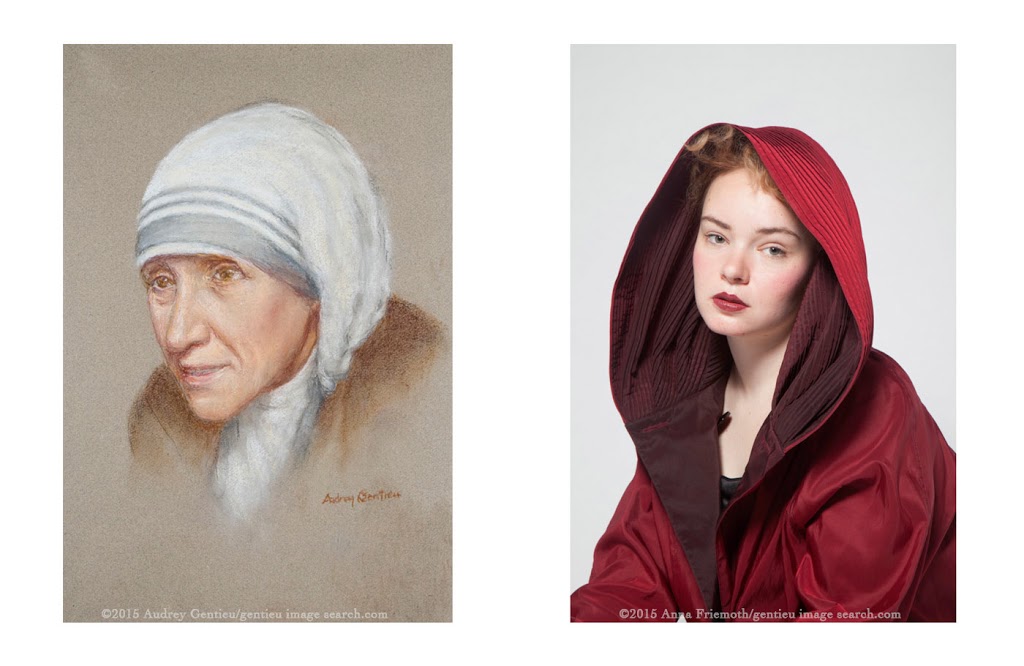 Mom's Mother Teresa in a headscarf, Anna's self portrait in a red-hooded maroon-lined cloak. (One's a saint, one's aspiring.)