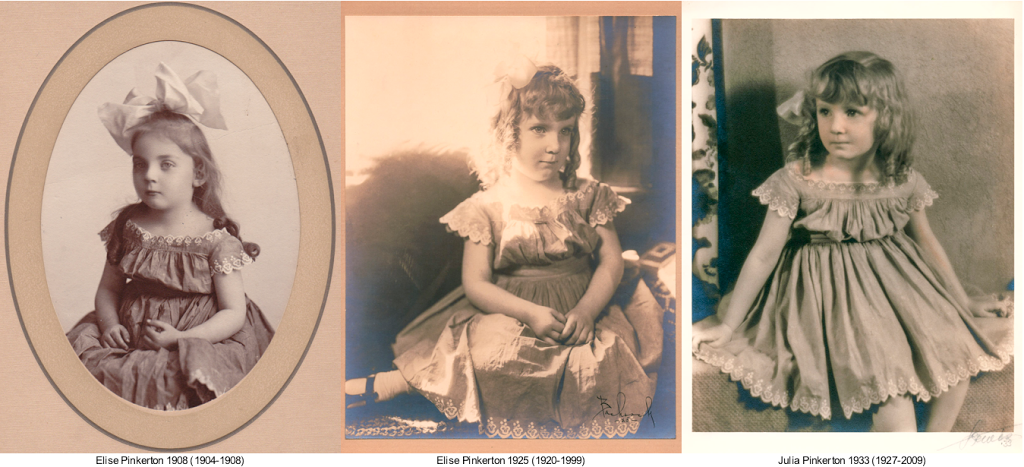 a 
I recently found these photos in my inherited family albums. The first one, from 1908, is of my grandfather's only sister, Elise. I never knew anything about her, but learned that she died at age 4 of typhoid fever, the year this photo was taken. The second photo is my Aunt Elise in 1925. I realized that she was named after this little girl. The third is my Aunt Julia in 1933, who was named after my grandfather's mother, Julia Buckingham Pinkerton.
About 20 years ago, when my daughter was five, Aunt Elise gave me the dress. It wasn't in any condition to put on my daughter. I didn't know the story of the dress, but it seemed spooky. I kept it in a drawer, wrapped in tissue paper. I took it out last week when I discovered these photos.
Imbued with the mystery of the child who died in 1908 and my aunts who wore the dress for formal portraits by the famous studios of Bachrach in 1925 and CL Lewis in 1933, it is disintegrating at the sleeves, having been hand-patched in various places apparently long ago.
There was a lump in the fabric, something in the pocket — I was a little afraid to see what it was! I pulled it out, and the message from my female ancestors, going all the way back to my great grandmother Julia Buckingham Pinkerton, who probably sewed it, couldn't have been sweeter. It was a century-old hand-crocheted hankie with a girl with a bow in her hair and bounce in her step, and the words, Tuesday's child is full of grace.