As I grew up, and even beyond, I became really concerned with not being compared to my mother. So this is the hardest comparison blog post to write. Although both of our names are Audrey, and my sister is always telling me I look like her, (as if that's a bad thing), and as a little girl, I wanted to be just like her, I'm just not. (Am I?)
I followed her around like a puppy, (or should I say, I was taken around by her, for lack of any other childcare options) to appointments with her clients, including the photo studios of Ray Bossert and Cecilia Venia, the oh-so sought-after society portrait photographers of the day, from whom she made bread and butter money by hand-coloring their photos to supplement her own pastel and oil portrait business. I sat with her daily, preschool age, as she worked on her commissions at the dining room table.
Naturally, teenage rebellion set in as I searched for my own artistic voice, and I rejected my mother's ways. I'm still looking, but there was a time there, and it is so obvious, of the quite strong artistic influence my mother bestowed upon the direction of my photography, and thankfully so. I'm referring to my photos of babies. If it weren't for that very focussed part of my career, lasting a good 25 years, which enabled me to have an outrageously beautiful sunlit studio in Manhattan and the experience of working with the best art directors in New York for the best clients in the world who hired me to create my very own signature-style photos of the sweetest, freshest subjects there could ever be, I wouldn't get to do the searching and rebelling and finding of myself (still) that I enjoy doing today.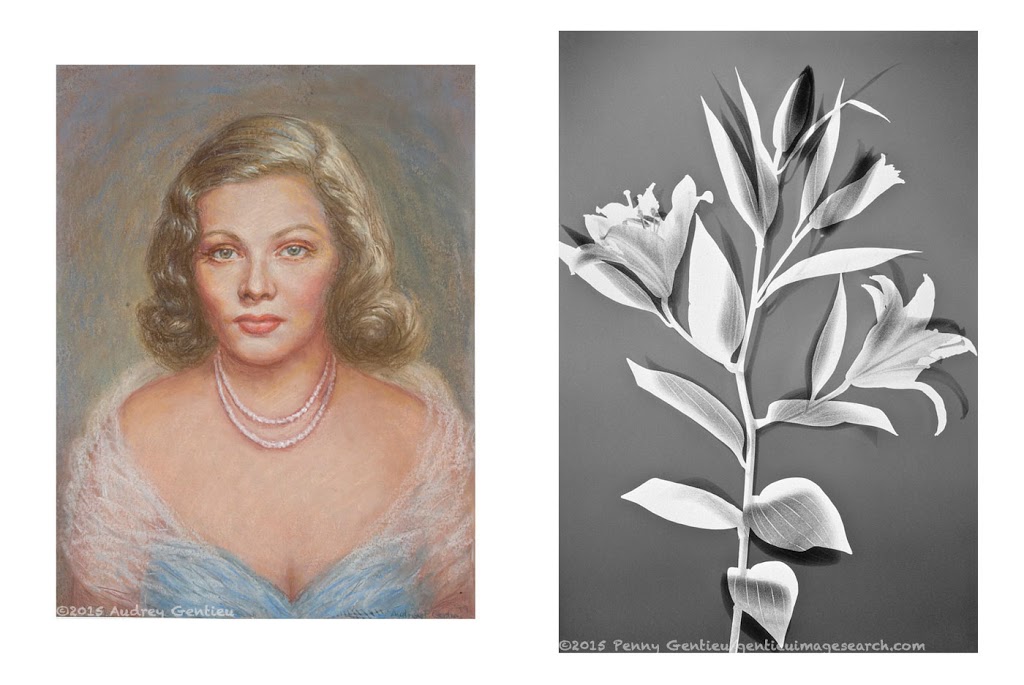 Mom's portrait of Gene Tierney. This photo of a lily. Mom suggested I photograph babies like that. A baby shot from above in infrared on a lightbox, later combined in the darkroom with the baby's actual photogram. 
That would be weird, I thought, but it was just too tempting not to try.
 It set off a surprisingly successful career. 
But in retrospect, in regard to Mom's suggestion… note the translucency of Gene Tierney's shawl, to the feeling of the infrared film in my lily, and how it relates to the softness and translucency of a baby's skin. Maybe that's what Mom was trying to get across, and I took her literally. Oh, well!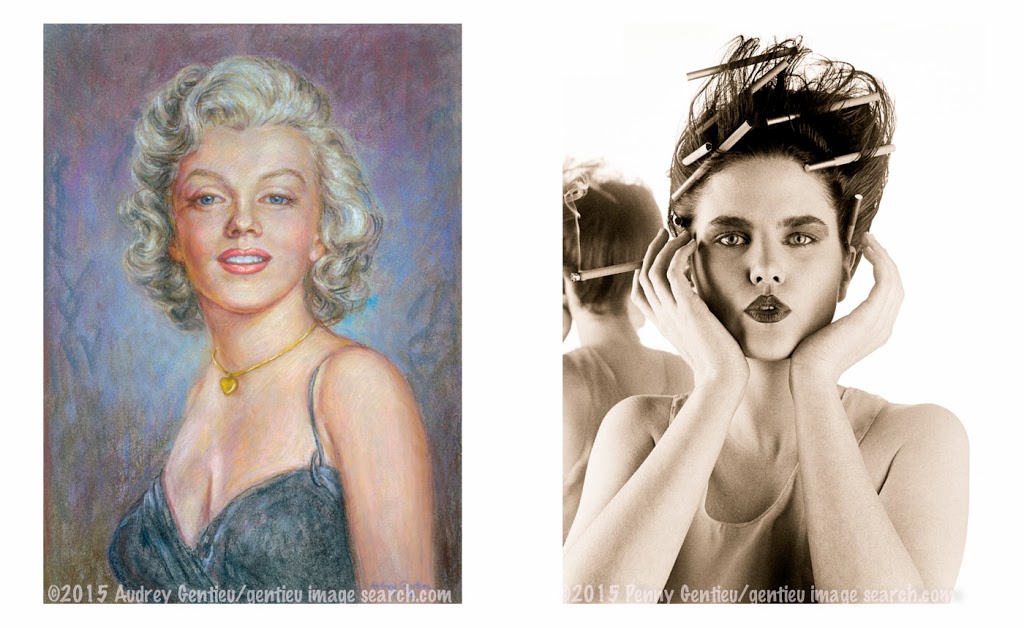 My mother taught me how to draw faces at a very early age. My drawing teacher in college, Diana Attie, recently said that she saw a young version of me in this portrait mom did of Marilyn Monroe. Not that I look like Marilyn Monroe, but Attie was saying that we paint best what we know.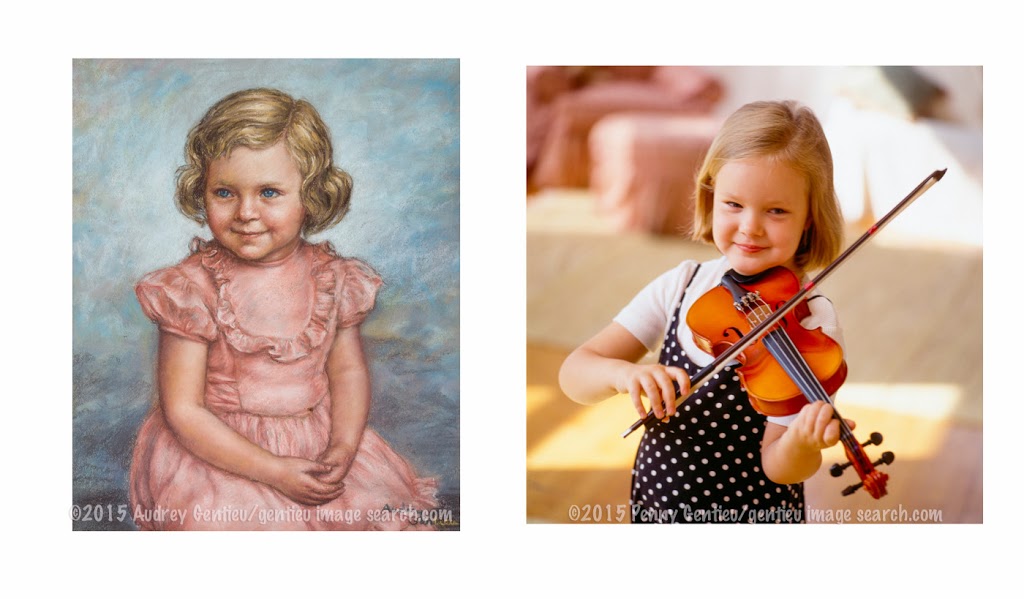 Mom's pastel portrait of me, compared to my photo of my own daughter. Anna played Suzuki violin from the age of three, thanks to the dedication of her musical dad. This photo was on the cover of Time Magazine, illustrating an article about how brains develop. Honored to have had that privilege.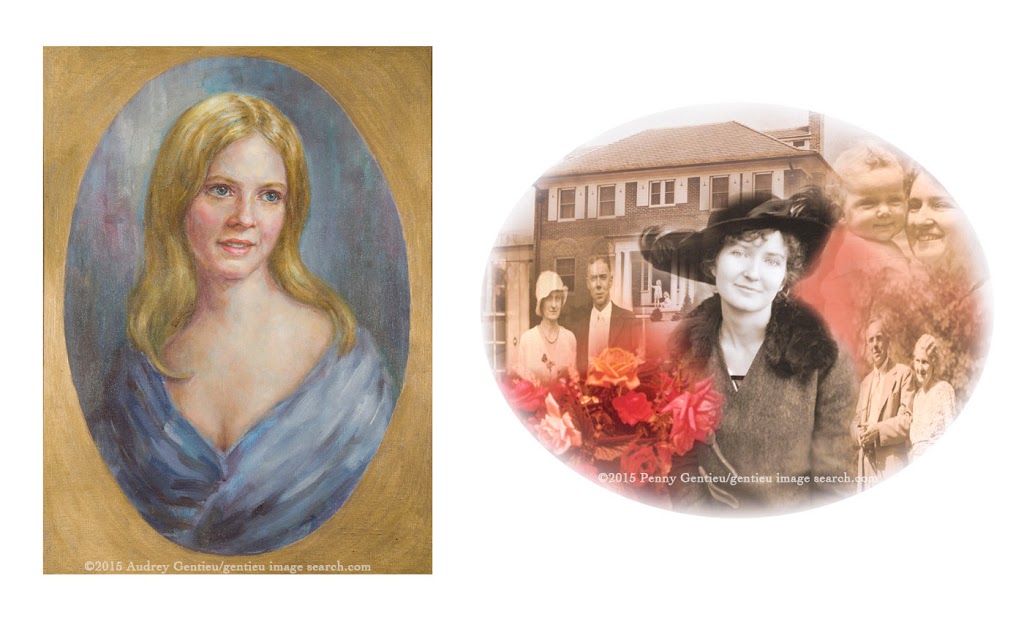 This was my mother's oil portrait of me, painted from a sitting I had with Cecilia Venia when I was a senior in high school. On the right, is my photocomposition of my grandmother, Mom's mom, published on the cover of the book, Our Grandmothers. The book is a compilation of female photographers' photos and essays about their grandmothers, mine included. Incidentally, the book also has an essay and photo by Annie Leibovitz (for whom I worked when I first moved to New York, and who inspired the naming of our daughter – Annie the photographer, but we named her Anna, in the tradition of the several Annas going back in our family tree.)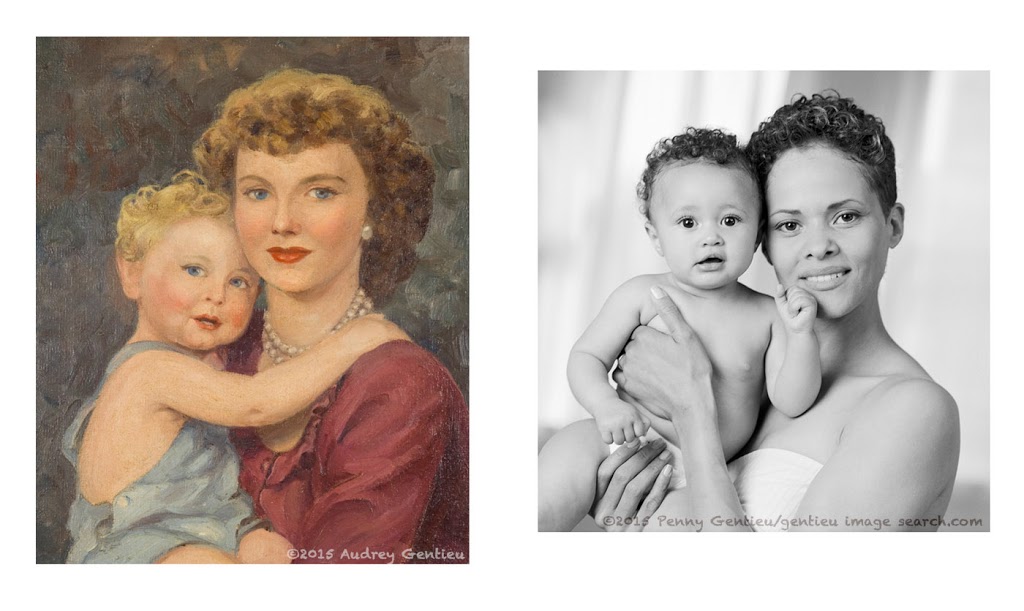 My mother's self-portrait with my brother, Peter. There is a lot of us in everything we do.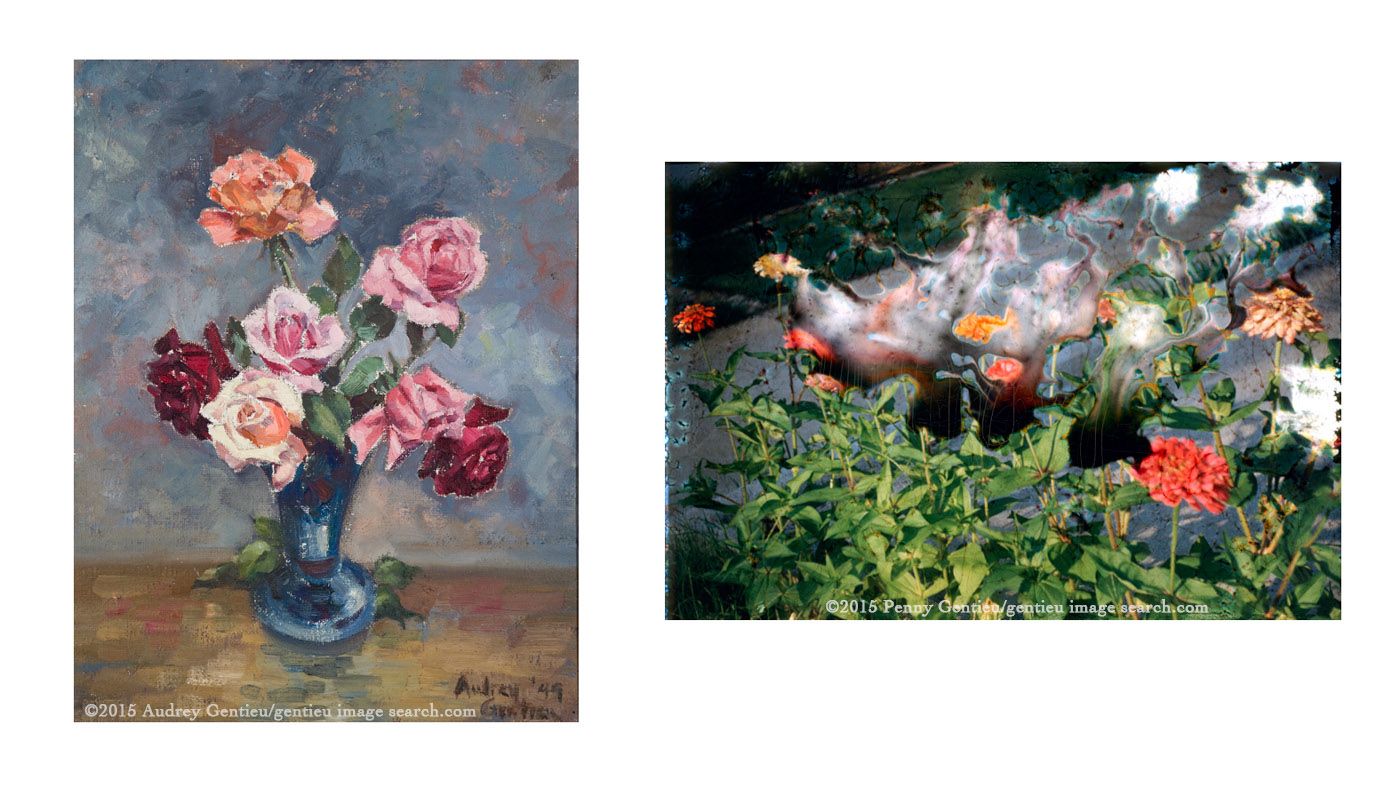 After portraits, roses were a favorite subject of my mother's. This is a photo of roses, from my Confabulations series, appearing as if a cloud got stuck in them. The texture is similar to the cloudy gray blue background of Mom's painting.
Mom showing the softer side of Gary Cooper. Andy Warhol had a soft side, too.
Mom's Tyrone Power…whose controlled steaminess (you just know there's a lot there under the surface) is such a contrast to my photo shot for New York Magazine of Nathan Lane letting it all hang out, while he's trying hard to hold it in. Yet there are similarities: same hairstyle (if Nathan would only have combed his back), same bushy eyebrows, and of course, both are on a plain background. Also, although you can't see it here, Nathan Lane had a watch on. (And I think he came to the studio wearing a gray jacket, if that counts.)