Audrey and Ed Gentieu with their first child, Peter, 1945
June 14 is my dad's birthday, Flag Day, and he was very patriotic. He was a WW2 veteran, a very handsome and charismatic man, a brilliant writer and talker. He married my mom, an artist, his high school sweetheart whom he met in French Club at DeVilbiss High School. They secretly eloped before he enlisted in the U.S. Army. A year later, they had a formal wedding. He was away for for the most part until the war was over, during which time a little son was born in 1943.
I was only 29, but before my father died, he visited Tom and me at our West Village, NY, apartment, over Christmas and that meant so much to us.
My father would have been 96 this year. But he died at the age of 62. Heart attack, died instantly, he didn't suffer, just way too suddenly and way too soon. A few months before he died, he sent me a three-page Gentieu family history, everything he knew about Pierre Gentieu, our immigrant ancestor, my great great grandfather. Pierre came to America in 1860 at the age of 18, and lived in Brooklyn. That became pretty interesting when we moved to Brooklyn a few years later after our daughter, Anna, was born.
To honor my father and mother, Anna and I have a show up, the Four Generation Gentieu Friemoth Art Exhibition, at the Paula Brown Gallery, thru July 11. Starting today, and every day for a week, we aim to highlight generational artistic connections, or shall I call them, family bonds, meaning, the creative connections between each of the four generations in the show. It starts with my mother, and her connection to Pierre Gentieu.
Pierre Gentieu – Audrey Gentieu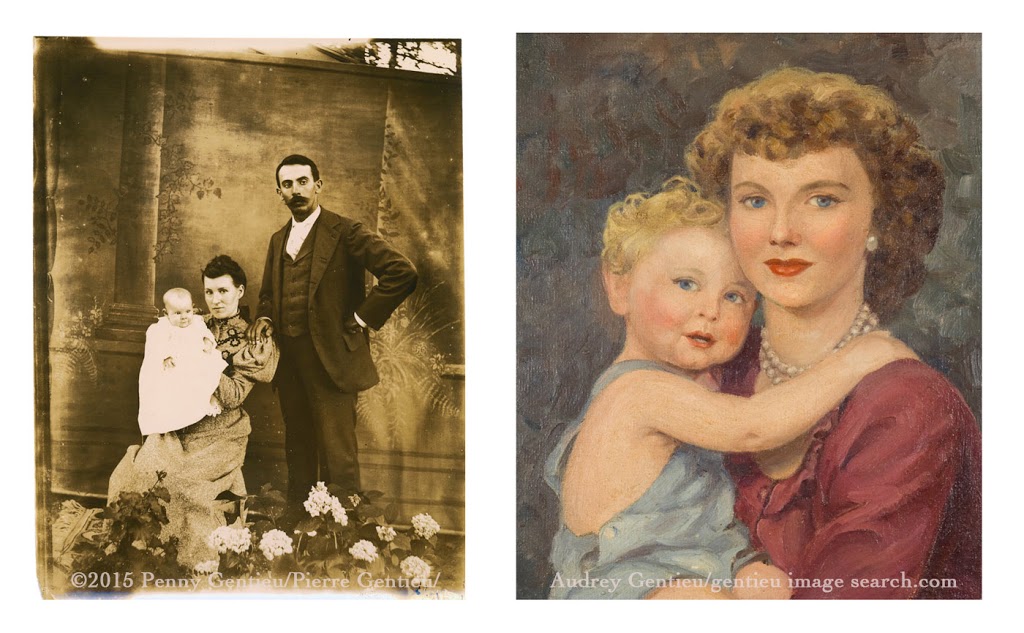 Pierre Gentieu's photo of his son and daughter-in-law, Frederic and Maude, my great grandparents, and their son, my grandfather. I really love how Pierre set up a studio in his backyard to make this photo, with a rug as a backdrop, and flowers in the foreground. On the right is my mother's self portrait with her first child, Peter.  My mother painted her self portrait from a Bachrach photo shot for a Bloomingdales ad!
And if you are wondering about the missing generations, in our show called, Four Generations, the show does indeed skip the two generations that are shown in Pierre's photograph. (We have to save something for the sequel…)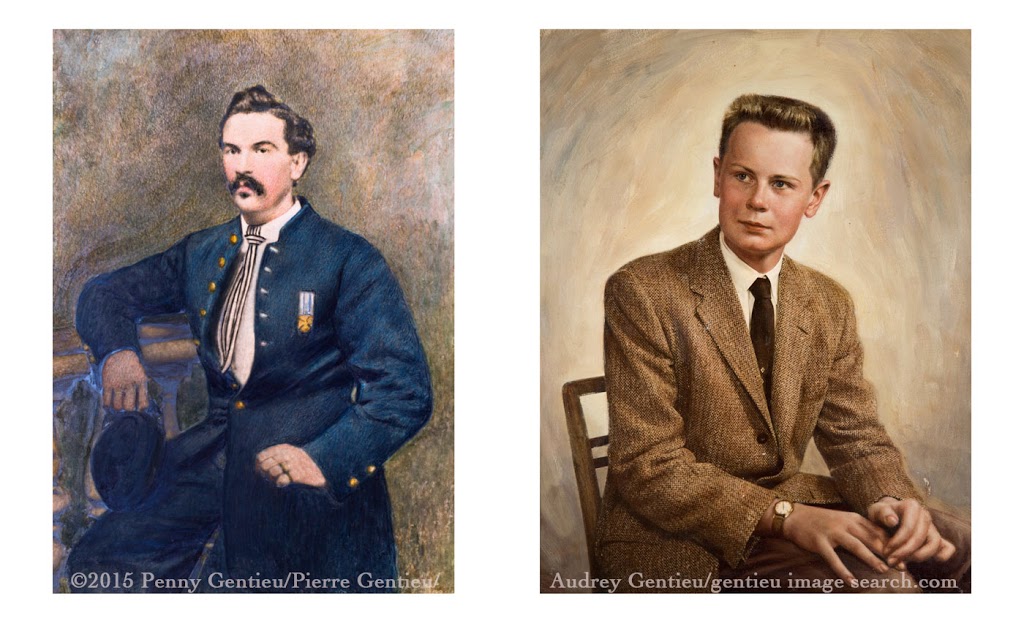 Pierre had this photo taken of himself in Brooklyn, upon coming home after his three-year service in the Civil War. He looks pretty serious. And rightly so, he survived nine battles and two injuries. Pierre himself hand-colored the photo. Likewise, the photo on the left was hand-colored by my mother, of my brother, Peter, close to the age Pierre was when he enlisted in the 13th Connecticut.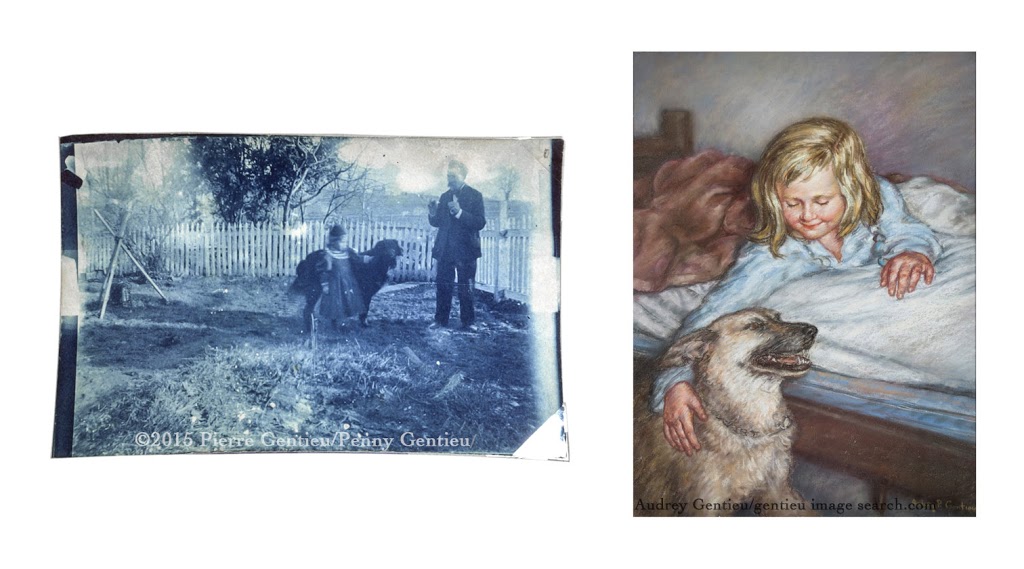 These two images feature family pets and both are candids. Pierre's cyanotype appears to be a self-portrait taken in his backyard, where he is giving instruction to his daughter, Jessie, in 1894. The big black dog looks very huggable, like my beloved german shepherd, Princess, in this pastel my mother made of us together.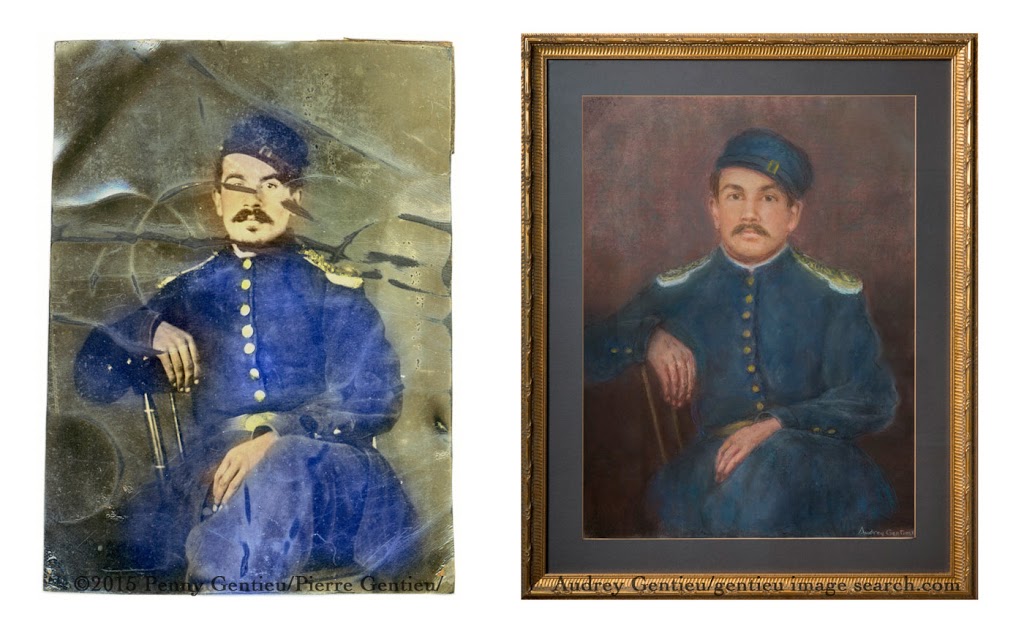 My mother was so kind to make this pastel painting of Pierre for us, from an old, damaged tintype.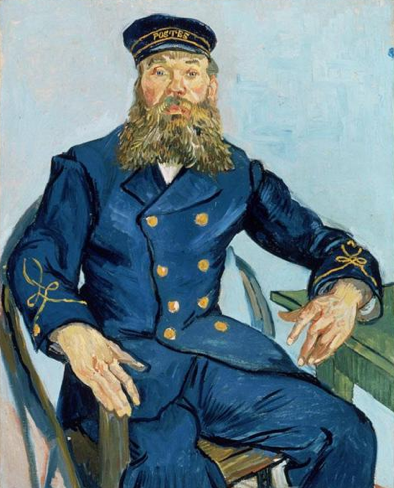 The Postman by Vincent Van Gogh